I now have three mantles to fuss with, which can be fun. I'm attempting to use what I have, some of which is still in boxes. Other things are being used on shelves or in another room. So, this is just my first year for Fall fluffing. I'll get my act together before too long. I've gotta get better organized so I can retrieve things. Somewhere there's a big bin of pinecones. Somewhere. . .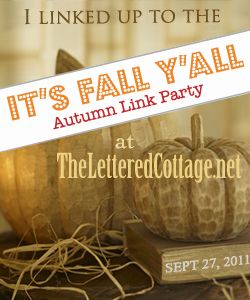 I'm coming a little late to the Fall Mantle Party. There are over 500 attendees. Check them out for great decorating ideas!
I'm also participating in "Show Off Your Cottage Monday". Come visit and see the Fall decorating!